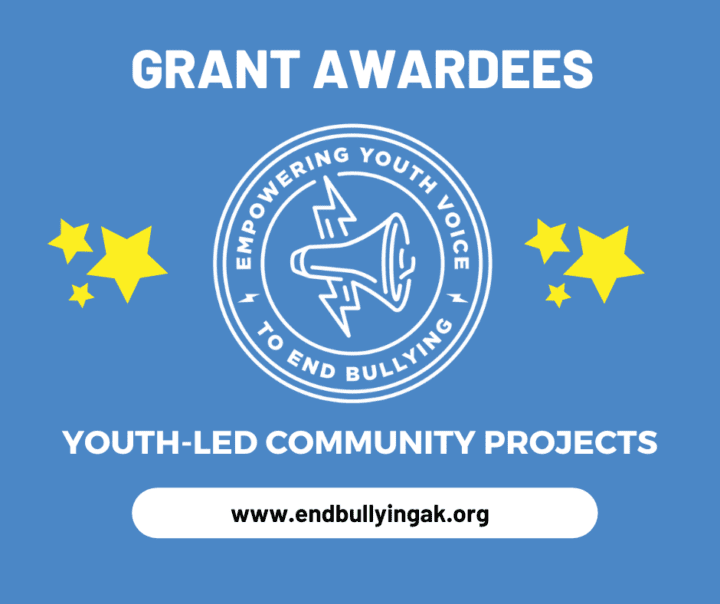 January 4, 2023
The Spirit of Youth Coalition is pleased to announce the recipients of the 2022-2023 "Empowering Youth Voice to End Bullying" grants. The coalition awarded up to $3,000 for youth-led projects that work to prevent bullying in schools, clubs, or other programs in the greater Anchorage area. Grantees will establish and implement programs that promote respect and inclusion; increase the broad community awareness and concern of bullying and its consequences; and reduce stigma among middle and high school youth about reporting bullying. 
Four programs were selected from among the applicants: 
One Eagle project at West High School
Students in the International Baccalaureate (IB) program will provide presentations to peers at West High and other Anchorage high schools regarding bullying, its impacts, and resources for teens. Student artists will also craft an anti-bullying sticker to distribute to all members of the high school community. 
You Are Not Alone (YANA) at West High School
Funding for the You Are Not Alone (YANA) program will provide assets for the "Bee Kind" campaign, that recognizes bullying speech and behavior, and empowers youth to speak up in support of peers experiencing bullying. Presentations will be delivered to all math classes at West High, with pencils printed with the 988 Careline number as a prompt for student action. Additionally, a monthly giveaway of "Bee Kind" sweatshirts will be conducted at the school.
Alaska Youth Orchestras (AYO) "Making Beautiful Music Together" project
Youth leaders among the orchestras will establish a peer-to-peer awareness and discussion platform to better equip these high-caliber teen musicians with tools to address bullying. This increased awareness will come about through training for adult and youth leaders, including parents, teachers, and staff of the orchestra programs, with the goal of feeling empowered to address concerns to the Anchorage Youth Orchestras leadership and community at large. 
Dance Contempo at Bettye Davis East Anchorage High School
The members of East High School's Dance Contempo group are creating a community-minded performance to present to local middle schools and showcase to fellow high school peers between February and April, 2023. Led by a student choreographer, the performance will center around the themes of respect for those who are different, and finding beauty in the power of creating as a team, while also providing tools for addressing bullying behavior. 
Learn more about the Spirit of Youth Coalition's anti-bullying efforts at www.endbullyingak.org. Funding was made available through a grant from Alaska Department of Health, Division of Behavioral Health, Prevention and Early Intervention.