November 1, 2022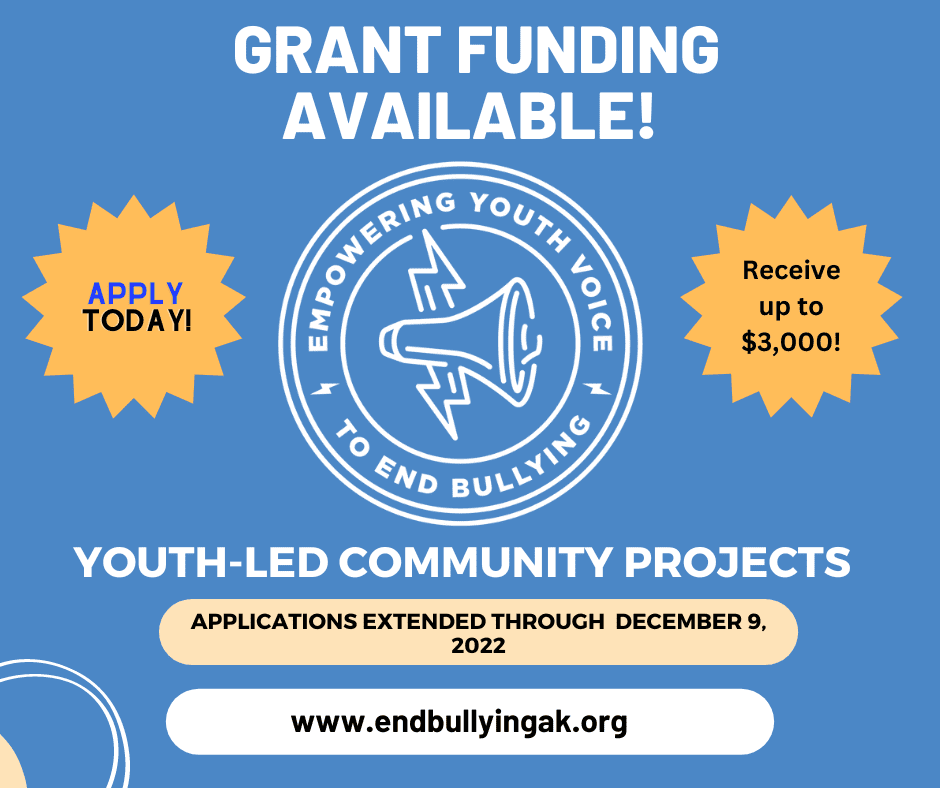 Spirit of Youth
,
Anchorage Youth 

Vote,
and other community partners are working as a coalition to build inclusive environments free from bullying.
Approximately 20% of students age 12-18 have experienced bullying. The Spirit of Youth Coalition was created to decrease the risk factor of bullying and to promote protective factors among Anchorage youth. Spirit of Youth is dedicated to creating, promoting and recognizing youth involvement in communities across Alaska. Anchorage Youth Vote works to amplify youth voice and create opportunities for meaningful youth engagement in Anchorage. Together, with other partners in the Spirit of Youth Coalition, we work to ensure that all Alaska youth are included, heard, and empowered.
Up to $3,000 is available for awardees of Bullying Prevention Campaign Grants are specifically intended to support youth-led projects for middle and high school students in Anchorage that meet the following goals:
Promote respect and inclusion
Increase the broad community awareness and concern of bullying and its serious consequences
Reduce stigma among middle and high school youth about reporting bullying
Increase bullying awareness among students, parents, teachers and school staff of institutions within the Municipality of Anchorage.
Apply for grant funding by December 9, 2022.
Access the grant guide and application HERE. 
Previous grant recipients have included:
Anchorage Youth Court
Koahnic Broadcast Corporation – Youth Health Reporters
You Are Not Alone (YANA) – West High
You Are Not Alone (YANA) – Hanshew Middle School
Anchorage Youth Task Force
League of Women Voters Anchorage / Anchorage Youth Vote
Stone Soup Group
National Alliance for Mental Illness (NAMI) Alaska
Junior National Honor Society
Benny Benson Secondary School
See Stories
Choosing Our Roots
Identity
Ignition Mentorship – Dimond High School
Boys & Girls Club  – Southcentral Alaska
Girl Scouts of Alaska
Clark Middle School