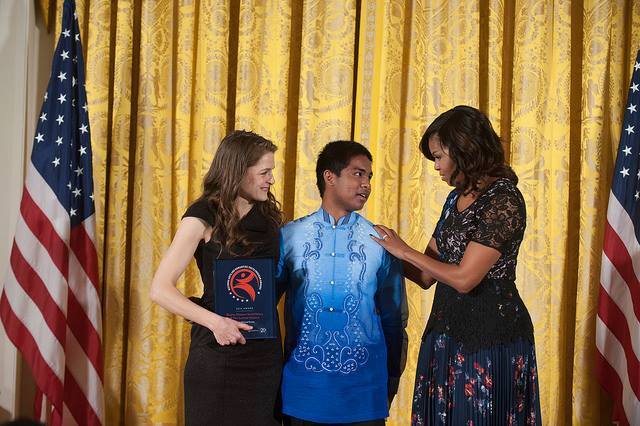 December 15, 2016
Way back in the '90s, during the era of Alanis Morissette, Dawson's Creek and fruit by the foot, Anchorage teen Marie Acemah opened the Crooked Rascal, a small shop nestled on the third floor of the 4th Avenue Theatre.
The shop shared its quirky name with a zine (short for magazine) created and produced by Acemah. Selling records, and zines from across the U.S., the Crooked Rascal was more than just a store—it was also a community space aimed at fostering creativity. Patrons of the Crooked Rascal could borrow a shared film camera, or sit down to write at a communal typewriter.
In 1998, Acemah was honored for her entrepreneurship with a Spirit of Youth Award, and as a true rebel of the '90s, Acemah delivered an anti-corporate acceptance speech in the form of a sonnet. Although Acemah had never heard of the organization prior to her nomination, being honored was an invaluable experience that she continues to carry with her.
Today, Acemah runs a digital storytelling business called See Stories, which works with teens in Kodiak and around the state,
"I just feel extremely blessed to do the work I do," Acemah says, "and it's entrepreneurial, which is what I was awarded for all those years ago. So, I feel like that [the Spirit of Youth Award] was the first step of, y'know, kind of positive reinforcement for my entrepreneurial side. And it's not an easy path financially, and in a lot of ways it's not an easy way to go. But it's really gratifying, and I get to see the fruits of my labor with young people who blossom. And I get to nominate for Spirit of Youth Awards and kind of bring it full circle for me."
For the past five years, Acemah has been working with youth in Kodiak to make films on local history. In partnership with the Baranov Museum, the films are incorporated into the museum's archives and exhibits. Students who participate in the program get school credit for their work.
Most recently, the program received the National Youth Arts and Humanities Programs Award. Acemah traveled to Washington D.C. with student Rafael Bitanga,
"We got to collect it [the award] from Michelle Obama in the White House, and it was just, for me it was like the ultimate affirmation that you're on a good path and that even when it's hard and even when the pay isn't super duper, that you're doing something meaningful and important, and to not lose sight of that greater vision."
Almost two decades after receiving a Spirit of Youth Award, Acemah continues to see hope and resiliency in the organization, "Spirit of Youth is a really neat program and I'm happy that I can connect my students now with it, and students from around the state can really shine this way. We need all this focus on positive energy because there's so much negative media out there."