April 11, 2022
Congratulations to the 2022 Spirit of Youth awardees!
Hannah Yi and Sophie Mayers of Anchorage won the Lifesaver Award. They

were instrumental at West High School in reviving the YANA club (You are Not Alone) after the pandemic and students returned to in-person learning. Once clubs restarted in the fall of 2021, Sophia and Hannah were the main students who picked up the work that had been left off. They also have put a lot of effort into restarting the presentations for classes and have recruited a team of students to make those presentations in February.

Katrina Katoanga of Anchorage won the Role Model Award. She is i

n her first year serving as both a TRIO Leadership Committee member and as a mentor for new students in TRIO. TRIO Upward Bound is a college prep program for students who have the potential to be first generation college students and/or of limited income households. Most recently, Katrina helped spearhead a community service project where she helped collect diapers and wipes for Afghanistan refugees newly settled into Anchorage.

Mia Siebenmorgen Cresswell of Cordova won the Discovery Award. She 

helps to beautify Cordova by picking invasive species and helping to maintain the local native plant garden. She helps with community recycling efforts and to organize a youth-led march to garner support and attention for climate change. She is also an advocate for her generation — she serves as the student council representative to the School Board. Through all of her experiences and accomplishments, she remains level-headed, calm, reflective and enthusiastic for the next opportunity.

Shandiin "Suella" Wendell of Chugiak won the Innovator Award.

She is a facilitator and communicator of powerful and important social issues. Most recently, she has been focusing on the Missing and Murdered Indigenous People (MAMIP) epidemic, bringing outreach to her community through her projects, participation in community events, and social networking. Suella is an ambassador of Alaska Native issues. She testifies at committees on Native children, works on podcasts with the community and keeps a dedicated presence of how we can all help.

Emaline Buchanan of Wasilla won the Visionary Award. When Emaline was 13, she started a nonprofit called Duchess Foundation. The nonprofit provides feminine products to school nurses and school districts. She started it when she recognized that her friends needed some help. She's turned 16 in February and continues to help her community through the nonprofit.
E Chythlook of Anchorage won the Humanitarian Award.

E has been a powerful example of LGBTQ inclusion. During the first year with the Anchorage Youth Symphony, E was instrumental in crafting Alaska Youth Orchestra's revised Concert Black attire requirements, setting a nationwide example of this classical music norm, which has historically been gender specific. That revised policy has been shared with every youth symphony organization in the United States and has been used as the new standard for gender inclusive policy within that sector.

Mia Wiederspohn of Wrangell won the Dreamer Award. She

 is working with KSTK 101.7 FM in Wrangell, Alaska to create a podcast series about the Tlingit language. By broadcasting Tlingit phrases and their English translations, she is helping to preserve the language Indigenous to her community.

Levi Anderson of Kenai won the Phoenix Award.

Last year, Levi was determined to help the current music teacher build up the music program. Thanks to his recruiting efforts numbers in choir and band increased. He also helped a local fundraiser by leading a group of dancers from his school in a musical number. Overall, he has reinvigorated the entire music department and is bringing his enthusiasm to the entire community.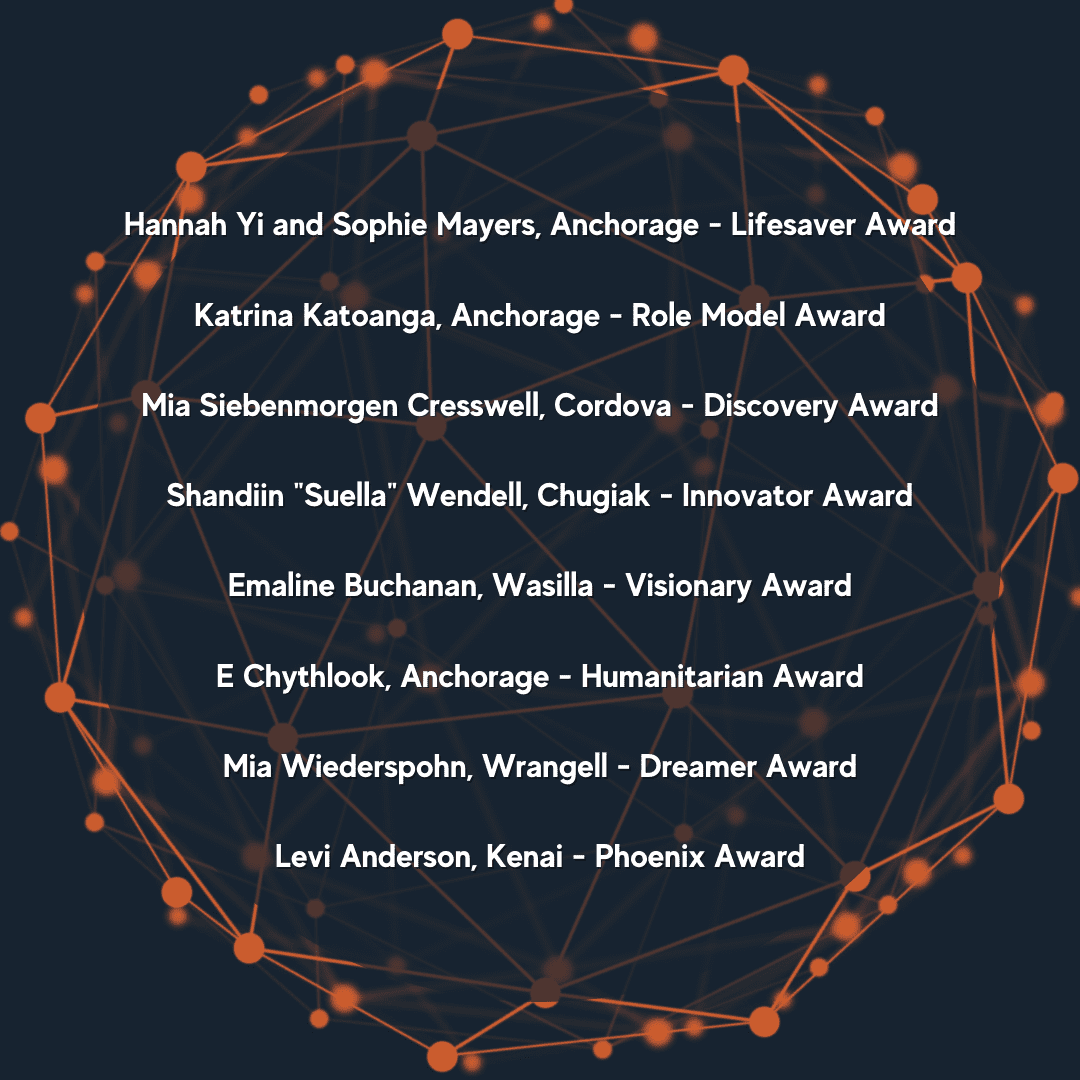 The Spirit of Youth Awards highlight dedicated young people and unsung heroes from around Alaska. The awards recognize the hard work and efforts of these future leaders. We utilize this opportunity to share their inspiring and heartwarming stories with the community.
Register for the 2022 Spirit of Youth Awards here.