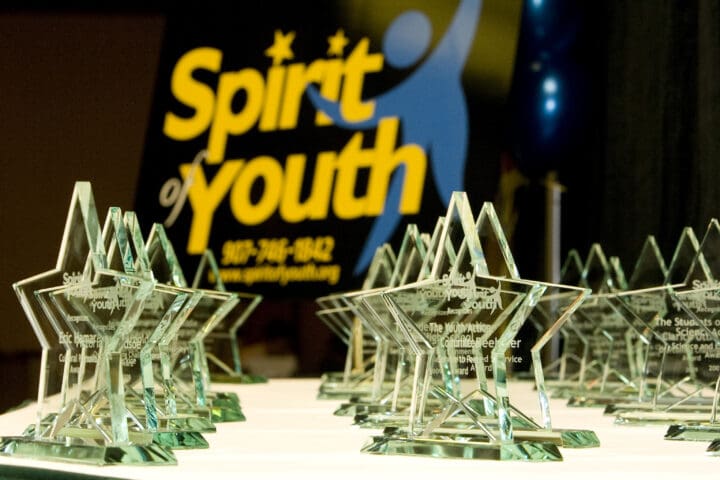 April 10, 2023
Spirit of Youth is pleased to announce recipients of the 2023 Spirit of Youth Awards, recognizing 16 teens and youth groups from communities across Alaska. Now in its 25th year, the recognition ceremony will take place on Saturday, May 6, 2023 via Zoom.
The Spirit of Youth Awards highlight dedicated young people and unsung heroes of our state, acknowledging the hard work and efforts of Alaska's future leaders through sharing their inspiring stories. Selected by the Spirit of Youth Teen Advisory Council, individual recipients will receive a college savings scholarship account from Alaska 529, and awarded groups will receive a grant.
Individuals and groups will be honored by category: 
PHOENIX AWARD
The Phoenix Award celebrates youth who display exceptional determination and perseverance as they overcome significant life challenges 
Catheryne "Catey" Habberstad (Anchorage) is involved with South High School student government, and has mentored other students with cerebral palsy at her school and online through a website called CHASA (Childhood Hemiplegia and Stroke Association).
Runner-Up: Briley Loncar (Anchorage) is a mentor, volunteer, and advocate for those less fortunate. She donates her time to help empower young girls to set goals, prove their self-confidence, and become stewards of their own communities.
DREAMER AWARD
The Dreamer Award recognizes teens who are actively engaging in their community through the preservation of cultural practices and arts, those who share personal expression through visual or performing arts, and those who cultivate youth voice through media and digital art forms. 
Sophia Moon Layos-Wagaman (Fairbanks) is an aspiring circus arts performer and competitive gymnast. She was the the first-ever recipient of the $5,000 Connecting Circus Students Around the World Tuition Grant for a U.S. Circus Artist of Color.
Runner-Up: Mazzy Adkins (Anchorage) is a skilled Athabaskan beader, creating a beading class for third and fourth-graders at her school. Mazzy helps shine a light on Indigenous knowledge, making it something desirable and important.
HUMANITARIAN AWARD 
The Humanitarian Award recognizes youth who have put forth efforts to make their community a better place or are active in local or state government.
Alora Wassily, Trista Wasily, Harmony Larson (Dillingham) as 5th graders began an initiative to change the derogatory name of a local creek after learning the origins of the name during a presentation at the Curyung Tribal Council. 
Runner-Up: Josephine "Josie" Violet Adasiak (Fairbanks) is the only Fairbanks representative for Alaska Youth for Environmental Action, addressing the issues of food justice and security in her community to improve sustainable and inclusive access to food for all.
VISIONARY AWARD
Visionary Award recognizes youth who have turned their creativity and knowledge into an entrepreneurial or economic venture.
Abbey Markell (Anchorage) started her own business from scratch, baking healthy, homemade dog treats for a local pet supply store's two locations. Abbey gives away treats to family and friends, and expired treats go to the Alaska SPCA.
Runner-Up: Luke Jack (Angoon) is a longtime volunteer in the Alaska Youth Stewards program, addressing issues of local littering and marine debris in Southeast Alaska. He also serves his school through a small school cafe he created himself.
LIFESAVER AWARD
The Lifesaver Award celebrates youth who have gone above and beyond "the call of duty" by preventing injuries and illness and saving lives. 
Sycely Wheeles (Anchorage) is a student leader with a passion for student mental health advocacy. Sycely has dedicated time and energy to raising public awareness of student mental health issues, and toward improving conditions for young people in Alaska.
Runner-Up: Leena Edais (Anchorage) is an advocate for tobacco prevention, co-writing a presentation for the Northwest Arctic Borough School District about the dangers of nicotine addiction. She is planning the 2023 Youth Encouraging Alaskans Health Summit.
ROLE MODEL AWARD
Teens nominated for the Role-Model Award lend a helping hand to peers and younger youth in their community. 
Jaeden Binion (Anchorage) is an incredible leader and is passionate about spreading the message of inclusion. He is a Special Olympics Alaska athlete and is one of two Special Olympics U.S. Youth Ambassadors representing Alaska. 
Runner-Up: Aaron Harkley (Anchorage) is an intuitive, natural leader as a longtime member of the Mountain View Boys & Girls Club, working to set up activities and events for younger members. Aaron is also a gifted student of music and video production.
INNOVATOR AWARD
The Innovator Award shines the spotlight on the efforts of youth who have shown excellence in the fields of math, science and engineering through research, study, or improvement in their community.
Mo Narus, Skylar Berg, and Grainne Rogacki (Anchorage) worked with Huffman Elementary PTO to start and facilitate a Science Club for students at their former elementary school.  
Runner-Up: Hannah Lewellyn (Fairbanks) participates in Lego Challenge events that test students' abilities in technology and science. She has assisted younger students with the skills of coding and problem-solving. She also works with homeless youth as a volunteer.
DISCOVERY AWARD
The Discovery Award highlights accomplishments made by youth in science with a specific focus on the environment.
Lauryn Maiyuraq Nanouk Jones (Unalakleet) is addressing problems like renewable energy and sustainability for rural Alaskans, and is focused on the bigger picture of helping remote communities regarding environmental issues, renewable energies, and gathering people together.
Runner-Up: Riga Grubis (Fairbanks) dedicates her time to the Model United Nations project. She also serves on the Friends of Creamer's Field board of directors as its youngest member, and volunteers at Tanana Lakes to remove invasive vegetation.
Sponsors of the Spirit of Youth Awards include: Alaska Children's Trust, Alaska 529, Altman, Rogers & Co, Atwood Foundation, Enstar Natural Gas, Mat-Su Health Foundation, and the Nick Begich Scholarship Intern Fund.